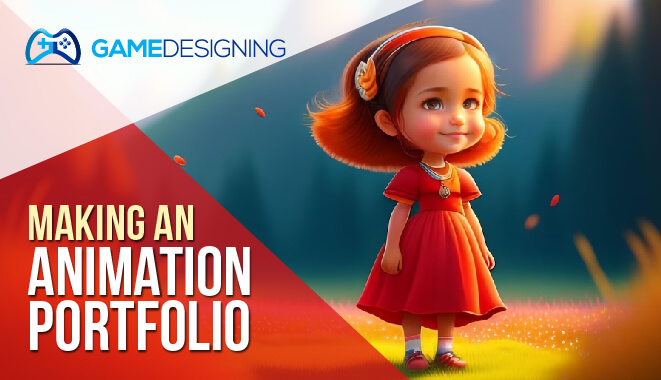 Animation is not just about quirky or cartoonish images; it's also about conveying a message, story, or narrative.
Animation is a creative and effective way to tell a story, so much so that the global animation industry was worth $395 billion in 2022 according to a Yahoo! Finance report.
While there's certainly a market for animators out there, competition is stiff. You need to create an amazing animation portfolio to stay ahead of the curve.
What Is an Animation Portfolio?
The entertainment industry is expanding quickly. Traditionally, it consisted of network television and cable channels.
Today, there are streaming services, YouTube, and social media where animation can be showcased.
But for animators to get a gig, they first need to demonstrate how good they are at the job. This is exactly where a portfolio of your animated work can help you.
An animation portfolio is a compilation of clips that demonstrate your knowledge, skills, and animation style. Also known as a demo reel, it must showcase your strengths and capabilities as an animation artist.
Potential employers will review your animation portfolio to determine if you are right for the job. It is an essential tool for animators, especially freelancers and those looking for new jobs.
What Are the Benefits of an Animation Portfolio?
The main benefit of having an animation portfolio website is its ability to unlock future employment or projects. So, it has to be a demonstration of your best work.
Let's take a closer look at 7 of its benefits:
Creates Credibility
The animation portfolio is proof that your talent isn't just lip service. It tells potential employers what you can do and where your strengths lie. Companies can then determine if you are a good fit for them or not.
Showcases Your Style or Versatility
You either have a specialization in animation or you can do various styles. Either way, your professional portfolio will showcase that and establish whether your abilities match the requirements of a company.
Demonstrates Experience
For some organizations, experience is key in the hiring process. If you have extensive experience, the animation portfolio will display your know-how and years of work. It can showcase projects you've done and help set expectations of what you can do.
Students or fresh graduates may not have a wealth of professional experience, but work isn't the only way to get valuable experience. Young professionals can still demonstrate their expertise by displaying amateur work they've taken on in college, during internships, and through personal projects.
Having a few years of experience isn't always a bad thing. After all, there are companies who are looking for fresh talent who show a lot of potential.
Flaunts Professional Achievements
Some professionals have received awards for their work. Instead of just mentioning the awards, it's best to present the award-winning work through a demo reel.
Achievements aren't limited to awards. Projects that have gone viral because of their ingenuity and creativity or for sheer entertainment value are also considered achievements, especially since not everyone can pull them off.
Allows Potential Employers To Envision Working With You
Different projects require different types of animation. Your animation portfolio website will help employers determine if you're the right person for the job. You can curate your portfolio to fit what a prospective employer needs or you can diversify it as much as you can to showcase your flexibility. It's a matter of understanding what you can offer potential employers and highlighting those strengths.
Gives You Higher Chances of Gaining More Customers
An animation portfolio website is your own online platform that exhibits your best animation. It's not just curated for job applications but can target anyone who comes across your site. You can put the address on your social media platforms so anyone interested can immediately access it. By putting your work out there, you have a chance to win contracts even if you aren't actively applying for new jobs.
Shows Your Ability To Convey a Message or Narrate a Story
Animation projects may be different but they all have one goal: to relay a message, tell a story, or create a narrative. It's a form of communication that's exceptionally engaging and imaginative. A portfolio gives your visitors an opportunity to understand your distinct persona and style.
Who Needs an Animation Portfolio Website?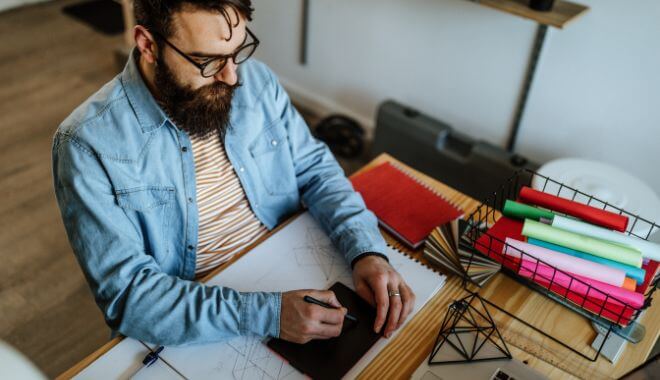 Anyone who does animation should have a professional portfolio. This type of portfolio is especially useful for:
Animation Students
Undergraduates aiming for an animation degree should start building their portfolio early, even while they're attending school. It can be as simple as a website where they display their college projects. This will be very helpful later on when they look for internships or work.
Interns
Interns learn valuable insights on the job. Many times, they are asked to contribute to animation projects which can be included in their portfolios. However, interns must mention their contributions to the project so as not to mislead the audience.
Professional Animators
Polished and impressive portfolios are an immense help to professional animators. Since most animation is digital nowadays, a website is a natural extension of their craft. Animators must make it a point to upload their best clips on their websites.
Professionals with certain styles and aesthetics can also use their portfolio websites to highlight what makes them outstanding and different. This can allow animators to target companies that are looking for animation styles that closely match the kind of output they're good at.
Here are some industries that rely on animators a lot:
Film and Television
Animators for films and television are what most people think of when it comes to career opportunities. But this huge and profitable industry is made up of different sub-sectors and specializations:
Traditional animation
2D animation
3D animation
Motion capture
Motion graphics
Stop motion
Marketing
The goal of marketing is to convince the audience to buy a company's products or services. But to ensure that the marketing team conveys the message, it has to capture the audience's attention first. Animation is an easy way to create engaged audiences and get people to sit up and notice a brand. Hence, animation is important in marketing.
Web Design
Decades ago, it may have been acceptable to have websites that only have text and a few images. But in today's world, websites rely on animation to stand out. It thus makes sense that many website owners or developers rely on animators to make their online presence more dynamic and interesting.
Video Games
Globally, revenues from video games amounted to almost $347 billion in 2022. New gaming systems and computer hardware are enabling video games to be more immersive, realistic, and advanced than before. Video game animators are crucial to game development since these virtual environments are mostly visual.
Freelance Animators
Finally, there are animators who prefer to be their own bosses and do freelance work. An animation portfolio is particularly important for freelance professionals because they constantly have to look for new projects to work on.
Having an impressive website allows them to set their own rates and gain clients even if they don't market themselves in other ways. There are generalist freelance animators who are good at different animation sub-specialties and there are also those who are highly specialized in certain animation work.
Tips for Building Your Animation Portfolio
---
The animation portfolio website works like a dynamic resume so it's important to have a solid portfolio. Here are six tips that will help you develop a compelling online portfolio:
Highlight Your Best and Most Recent Work
Put your best foot forward. Highlight your best work by giving it a more prominent space on your site. If you have multiple animation reels to include, showcase the latest ones first. Your most recent animated work is usually the best because it is a product of everything you learned about animation over the years. It's also more likely to employ the latest trends and technology in animation.
Be selective about what you showcase because it could mean getting more jobs and more interesting projects.
Those looking for a specific type of job must prominently feature projects that demonstrate their animation style.
Organize Your Work
Freelancers who dabble in different industries must organize their work according to project types. This way, potential employers can click on the type of animation they're looking for. A well-organized and functional website encourages visitors to explore more of your work while making you seem more professionally credible.
In addition, categorizing your work allows you to post old projects and even illustrations to give potential clients a better understanding of what you can do. It can also showcase your growth and versatility.
Add New Work Regularly
Continue adding new work even if you aren't currently employed. It shows that you are passionate about animation and are capable of professional development even if you don't have ongoing professional engagements.
To make your portfolio even more impressive, try to showcase work that highlights your ability to adapt to new animation trends and technology.
Avoid Fanart in Your Portfolio
Fanart is fun to do and can be an amazing creative outlet. But it doesn't belong in a professional portfolio. For one, you don't own rights to the original characters and some employers may look at it as a misrepresentation of your talent.
Pick a Reliable Host
Prospective employers or clients shouldn't experience problems accessing your website. If they can't access the website, they will just move on to the next candidate on the list. Research the best web hosting company that specializes in animation and the like — it must be fast and able to accommodate heavier files.
In most cases, paid web hosting services are the best option. Since you stand to gain more clients with an animation portfolio, it can be considered a form of professional investment. Web hosting services are generally not that expensive anyway. Plus, the benefits are worth it.
Keep Text To a Minimum
Your animation or demo reels showcase your knowledge and skills, but they don't tell potential employers who you are. Remember to include text that introduces yourself and summarizes your experience. Keep it limited to important information like your name, contact details, social media accounts, and previous work experience.
Animation projects need labels too. Every reel must include the name of the project, date of creation or publication, and other necessary details. If projects are a product of a collaboration, you must specify your contributions. Projects that have received awards must be labeled accordingly as well.
One thing you should keep out of your portfolio is advertisements. Though obvious, it needs to be stated anyway. Ads don't help your case. They look unprofessional and don't support the credible image you're trying to establish.
Promoting Your Animation Portfolio Website
---
Once you have your website up and running — you're ready to receive some visitors.
When job hunting for animation work, don't make it hard for potential employers to find your portfolio. Make sure to put the link to the website on your online application. If you're sending a hard copy of your application letter and resume, include a QR code so potential employers don't have to type the website on their devices.
Part of being a successful animator is maintaining the right social networks. With social media, this is easier than it's ever been. LinkedIn, for example, is a great way to network with people in the same industry. Make sure you put your website on your LinkedIn and other social media profiles.
Instagram and TikTok also work well for showcasing animated work and getting people to visit your portfolio. Post some of your work on these sites and include the link to your website under the post and on your account information. Other social networks to consider are Twitter and Facebook.
Finally, insert the link to your animation portfolio in your email signature for maximum mileage.
Building Your Animation Portfolio Website
You need the right tools and platforms to create a professional animation portfolio. The right animation software will help you create the best reels that could generate interest from potential employers.
The following are some of the best animation software you could use:
Animation Software
---
Adobe Creative Cloud
Adobe Creative Cloud is a group of applications that animators can use for graphic design and video editing. It's comprised of software like Photoshop, Illustrator, Animate, After Effects, and Premiere. Several studios use Adobe Creative Cloud which speaks highly of its reputation and capabilities in the industry.
Toon Boom Animation
Toon Boom Animation was developed by Storyboard Pro. The program is geared toward helping professionals create animated storyboards and animatics. It also includes Harmony which makes 2D animation easier and helps create impressive visuals. Many commercials and films use this solution.
DragonFrame
DragonFrame is ideal for stop-motion animation. It allows animators to capture high-quality images or videos and work with those files directly to create compelling images.
AutoDesk
AutoDesk is a versatile design software that's used in many industries. In terms of animation, AutoDesk provides feature-rich functionalities like the ability to create renders and work with 3D modeling.
Blender
Blender features a toolset that allows animators to work with its character animation pose editor, forward/inverse kinematics for fast poses, non-linear animation for independent movements, and sound synchronization.
Equally important as the tools used in preparing animation reels for the website is the website platform. The following are the top hosting services for your animation portfolio:
Hosting Services
---
Adobe Portfolio
If you have Adobe Creative Cloud, the Adobe Portfolio is a free add-on. It allows you to create a responsive multi-page site that showcases your various animation projects. You can easily edit and update the site too. An important advantage of this hosting service is its compatibility with many Adobe products and apps.
WordPress
Many websites use WordPress because it is free. For animators, the free hosting service has up to 3 GB of storage space. But there are also paid options if you go beyond the free allocation.
Behance
Behance is technically a social media platform that hosts people's creative projects. Adobe owns the platform but Behance is very different from its mother company. The layout is similar to Pinterest but it has a section where people can hire creatives and animators can look for creative jobs.
ArtStation
ArtStation hosts different types of showreels but gaming animation is the most prominent. It features different channels to make it easier for animators and potential employers to find what they are looking for. Some of the channels include game art, visual development, storyboards, motion graphics, horror, and much more. There is also a section where animators can find a job or a studio to work with. Companies can also post jobs or find an artist.
Outstanding Animation Portfolio Websites
To give you an idea of what excellent professional portfolios look like, here are some top animation portfolio examples and why they stand out. Use them as inspiration when building your own.
Rafael Varona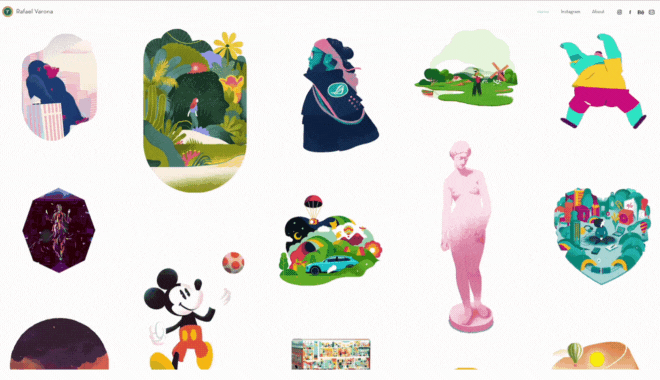 From the moment the page loads, there's no mistaking that Rafael Varona is an animator. Peruvian by birth with homes in Berlin and Rotterdam, Rafael is clearly passionate about animation and has created his own iteration of the King Kong vs. Godzilla showdown. Interestingly, instead of butting heads, Rafael has the two giants competing in a dance-off. His animation loops are unmistakably dynamic and colorful.
Rafael has worked with these world-renowned companies:
Disney
Google
Pepsi
Washington Post
World Health Organization
Yukai Du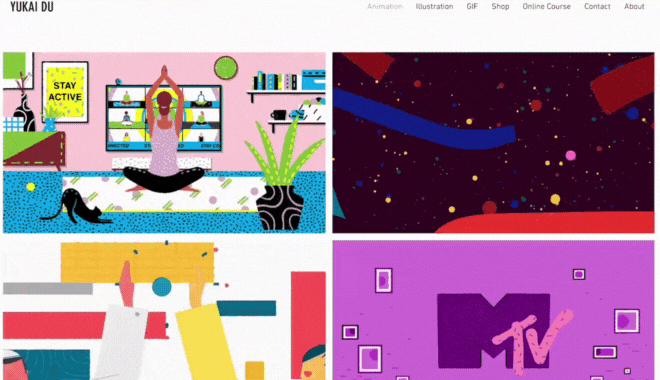 Yukai Du has a vibrant webpage with fantastic animations and colors. She is a Chinese illustrator and animator based in London. Du injects her personal style into all her projects, giving her work diversity while maintaining a distinct Yukai Du vibe.
She is active on various social media platforms: Instagram, LinkedIn, Twitter, Behance, and Vimeo. Du is a recipient of multiple awards such as the 3×3 Illustration Best of Show, Adobe Design Award Honorable Mention, and D&AD New Blood Wood Pencil.
Her most notable clients include:
Adobe
Apple
LUSH
The New Yorker
WeTransfer
Hannah Jacobs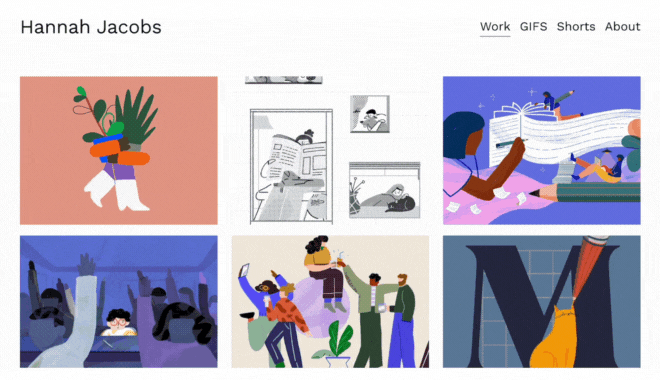 Hannah Jacobs is an award-winning illustrator, animator, and filmmaker from London. Her 2021 animated short, Your Mountain Is Waiting, was nominated for a British Academy of Film and Television Arts award. Her animation portfolio website showcases her versatility and creativity. Hannah's projects are neatly arranged in a grid, making it easy for potential clients to browse through her work.
Hannah Jacobs' past clients are:
Apple
BBC
Headspace
Netflix
The New York Times
Marco Mori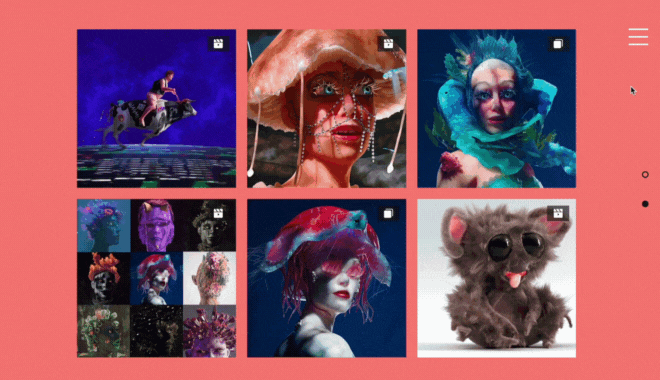 The homepage of German 3D and motion design animator Marco Mori is like a short film in itself. He earned a degree in interactive media but spent most of his career combining real footage with 3D animations, motion graphics, and photo manipulation. He has done some music videos with 3D animation for artists that include YNW featuring Kanye West (Mixed Personalities), Young Thug (Chanel), and Gorillaz (Tranz).
Marco Mori's list of clients includes the likes of:
Puma
Starfish and Coffee
Universal Music Group
Georgie Lord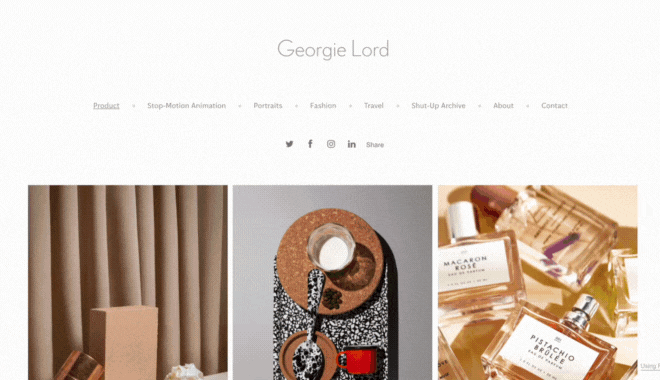 Georgie Lord is a UK-based photographer and stop-motion animator who specializes in product photography. Georgie is also a stop-motion animator who showcases many of her stop-motion projects on the homepage of her website. Neatly organized and easy to navigate, her portfolio invites potential clients to gauge her capabilities and watch her previous creations. According to her website, Georgie enjoys working on marketing projects.
Some of Georgie's past clients are:
Nestle
The Landmark Hotel
Twitter
Urban Outfitters
WaterAid
Conclusion
Animation is engaging, delightful, and timelessly interesting, however, it's a very specialized field that takes significant creativity and technical skill. While you only need a bachelor's degree to enter the field, honing your capabilities and amassing an impressive portfolio takes time and dedication.
Once you have some projects that you can be proud of, you can put together a functional, organized, and aesthetically pleasing animation portfolio website that allows you to show off your ability to create moving visual art.
Sources:
---
Markets N Research (2023, February 28). Global Animation Market Size/Share Worth USD 528.8 Billion by 2030 at an 5.00% CAGR: Markets N Research (Analysis, Trends, Share, Segmentation, Background, Forecast, Growth, Growth Rate, Value). Yahoo! Finance.
https://finance.yahoo.com/news/latest-global-animation-market-size-160000173.html#. Accessed 17 July 2023.
Forbes Coaches Council (2017, October 19). Nine Advantages Of Developing Your Own Professional Portfolio. Forbes. https://www.forbes.com/sites/forbescoachescouncil/2017/10/19/nine-advantages-of-developing-your-own-professional-portfolio/?sh=1e0b1fd52519. Accessed 17 July 2023.
NobleDesktop.com. Which Industries & Professions Use Animation? NobleDesktop.com. https://www.nobledesktop.com/learn/animation/industries-and-professions. Accessed 17 July 2023.
https://www.statista.com/topics/868/video-games/
ScreenSkills. Build Your Animation Portfolio. Screenskills.com. https://www.screenskills.com/starting-your-career/building-your-portfolio/build-your-animation-portfolio/. Accessed 17 July 2023.