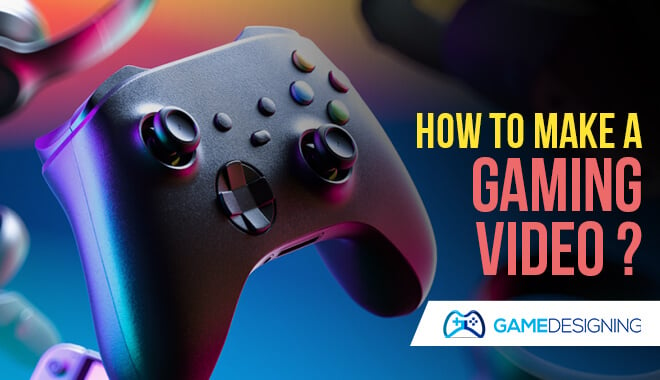 Gaming has become more than a hobby–it's a lifestyle. Being able to share your gaming experiences with an audience can be a great way to express yourself and your creativity all while playing the games you love. For the most successful content creators, making gaming videos can also be very lucrative, but that doesn't mean it's easy.
There are countless channels out there doing walkthroughs, let's plays, reaction videos, reviews, and streams every day. Everyone is trying to be the next viral gaming sensation, but building a fanbase will take a lot of work, and not everyone can make it to the top. In this article, we'll cover everything you need to get started and give yourself an edge, so you can get filming and find your followers.
Essential Equipment for Making Gaming Videos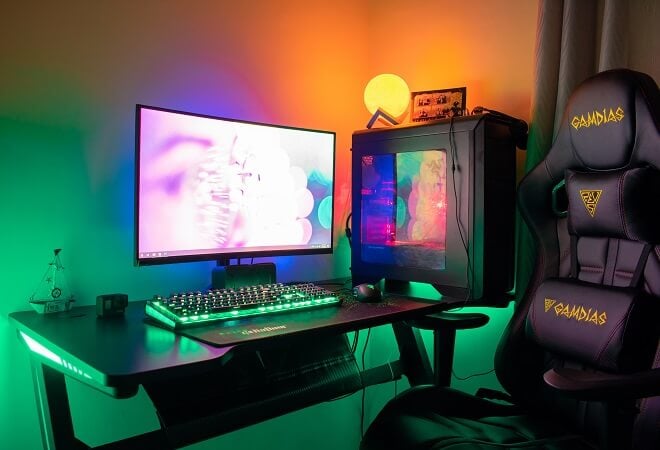 The first step to starting a successful gaming channel is to have the right equipment. But, if you're not too tech-savvy, it can be dizzying to Google all the equipment you'll need to get started.
What's a boom stand, and do you really need one?
Should you cover your room in noise-canceling fabric if you want to record anything?
How do you record gameplay footage anyway?
How do you edit it?
Very quickly, things can get pretty complex. But don't panic! What you really need to get started is:
A Laptop Or Computer
It might go without saying, but in order to record gameplay and video footage, as well as to upload your content to YouTube, you'll need a computer or laptop, with a stable internet connection. Your footage can take up a lot of storage space, and you should have a computer that can handle using multiple devices at once. If your computer can handle filming in 1080p, even better.
If you need a better laptop to make your gaming videos, I recommend the Dell G5 5505 Laptop from 2020. It's a deceptively great laptop for the price, selling for as low as $1100. Much cheaper than its competitors, such as Alienware. Despite that, this laptop has 16GB of RAM, amazing performance, and 7 hours of battery life.
As for desktop computers, as of now, the 7th Generation iMac is a great option. It boasts a 24-inch screen, 2 terabytes of storage, and a suite of software prebuilt into the system that has made the iMac so popular among video editors.
A Webcam, or Camera
This is technically optional; not all gaming channels actually film themselves playing. Sometimes, just the audio, gameplay footage, and maybe an animated sprite can work well without ever having to perform live for a camera.
With that said, if you plan on streaming, or filming yourself, a camera or webcam is a staple of successful streamers. But there are a ton of cameras out there, and some can cost you well over $2000–an unreasonable ask. Especially if you don't yet have an audience at the ready.
So to start off, I recommend the Panasonic G7 Lumix. It can easily film in 4k resolution, and its autofocus system and large viewing screen will help you set up excellent shots. It's also significantly cheaper than most high-end cameras, usually running you $500 to $800. It's a great camera that won't let you down.
For streaming, however, you might prefer a webcam. The most popular webcam for streamers is the Logitech C920. It films in 1080p; can film in decent quality even in low light settings, and also has a great autofocus feature. The Logitech also has two built-in microphones, which you can rely on in a pinch. But for professional quality gaming videos, you won't want to rely too much on them.
When you're ready to go to the next level, it's time to start looking into microphones.
A Microphone
Speaking of which, if you're on a tight budget when shopping for equipment, a good microphone should be your first big upgrade. Audiences are largely willing to accept an entertaining video even if the video quality isn't professional grade. But, poor audio is always noticeable and can leave the wrong impression on your content.
If you can get a high-end microphone with a filter, you'll breeze past this problem, and will be taken much more seriously as a content creator. The Blue Yeti Pro is among the most popular microphones used by gamers. Easy to use, this mic is made of sturdy metal, and is considered to be among the world's best USB microphones. The Pro version even comes with LED lights to show you whether your voice is too loud or quiet.
The Yeti is more than capable of producing professional-quality sound. For those who want even more features, this streaming bundle comes with a Blue Yeti, shockmount, and boom, making it perfect for streamers, or to make your own recording studio.
Recording Software and A Game Capture Card
What is a gaming video without gameplay footage? Well, not much. To record your gameplay, you can use recording software for PC, or a game capture card if you're playing on consoles.
As far as capture cards go, the Elgato Game Capture HD60 S+ is a perfect choice for modern consoles. It can capture footage in 1080p, and seamlessly bring the footage to your computer screen.
However, another strong option is the Avermedia Live Streamer 311 bundle. This set comes with everything: a mic, Avermedia's own capture card, a webcam, and access to ReCentral (Avermedia's recording software). While none of those are necessarily the top of the line, they're by no means at the bottom either, and the full set comes at a reasonable price. ReCentral and the game capture alone are very easy to use.
Finally, I'd be remiss not to mention OBS. OBS is free recording software and is widely relied upon by the streaming community. OBS is easy to use, has a lot of personalization options, and even lets you create instant replays during your stream. It's a perfect screen recorder for any gaming channel.
Video Editing Software
So you have your gameplay footage all filmed and ready to go. You've recorded a few reaction shots of yourself, and the sound quality is great–that's great! But none of that matters until it's all put together, and to do that you'll need to use video editing software.
Adobe Premiere has been around for many years, and for good reason. It's a professional editing software with a lot of support offered for beginners. However, it comes with a price tag of $27.99 a month. The money can be worth it, as the software is even used in professional filmmaking.
However, if you're looking for something free, avoid programs like Wondershare Filmora. It's a newcomer to the scene and is great for software editing, but the free trial will put watermarks on your videos. Instead, consider using Lightworks. It's free editing software that's extremely user-friendly and allows you to separate different scenes into timelines for easier editing. It will definitely hone your editing abilities.
These five are the basics of what you need to get started, but there is a lot more equipment out there that helps improve the quality of your videos. For example, having some film-quality lighting will help your videos stand out from the crowd. Green screen software is a quick way to add professional-looking backgrounds and cool effects to your videos. But these can be expensive and will take some practice to use.
For beginners, it's better to master the basic five, and then pick up more stuff to improve later. While you want to seem professional, you can still begin to grow an audience even without spending thousands of dollars on high-end film equipment.
Best Practices For Gameplay Videos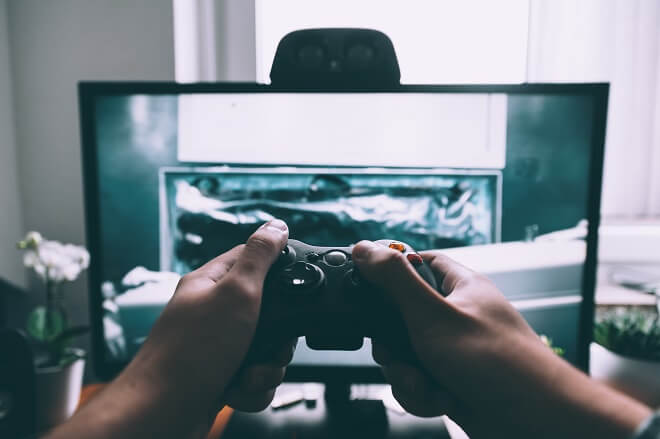 On YouTube, Twitch, and all of social media, this is always a big concern. You can create fantastic content, but why isn't anyone watching or sharing it? At the end of the day, it's up to your audience. There is no magic wand you can wave to make your gaming videos go viral, But there are some things you CAN do.
Know Your Niche
James Rolfe, better known as "The Angry Video Game Nerd" was among the first game reviewers on Youtube to gain massive popularity. He established his brand quickly; he would review retro games and systems as an over-the-top, aggressive, profanity-laden, nerd. This is a niche he fills to this day, with respectable numbers of views and subscribers. His success inspired many copycats, almost all of them fell into obscurity. But some developed their own unique style and thrived.
The Lesson? Don't mimic what someone else is doing too closely, try and find what makes your content unique.
It may seem practical to focus on only popular or trending video games or topics, as they're more likely to get views in the short term. However, long term it's better that you work on the topics that you can put your genuine passion towards. It's a competitive industry, there are millions of gaming channels out there, but that doesn't mean you can't find a way to stand out.
Maybe you only review games fans have sent you. Or you could specialize in terrible horror games on steam. Or it could be that giving an authentic viewpoint on gaming news, and your own charisma is enough to attract an audience. You could even portray yourself as a wild-eyed comedian with a lobster puppet as a sidekick.
Whatever it is, getting those subscribers will only happen if you make your own niche, not if you follow what everyone else is doing. If your current brand isn't working, you can always change it. But be careful, audiences find it easier to latch onto a content creator who stays consistent, rather than one who changes their style regularly based on what's trending.
Know Your Audience
Also, it's important to try to figure out who your audience is. If your gaming videos are about speedrunning 2D Nintendo games, awesome! But it means you have to market your videos towards people who like speedrunning and retro games; not necessarily to gamers who watch Fortnite tournaments.
There may be some crossover between the two markets, but it's better to cater to the fans you know are interested. It's ok to have an audience that starts out small; try to get a read on what they like, and do it well. This doesn't mean dwelling on the negative comments and taking every criticism to heart, but engaging with your fans on some level is a great way to get more of them.
Be Consistent With Uploading Your Videos
The internet is fast-paced, and its memory is short. If you only upload a few times a year, your channel may never get the large following you want. Your videos should come out on a consistent schedule so that your subscribed audience can come to expect and anticipate them.
Here is a useful tip: the best time to upload to youtube is early afternoons on weekdays, and in the morning on weekends.
It helps to have content ready to go at least once a week and upload it during those windows to ensure you get the most views right away. If you're just starting out, it's better to have several weeks' worth of content filmed and edited BEFORE you start uploading. That way you'll be sure you have something for your audience ready while you're filming future content. It's a lot less stressful that way.
Create An Intro and An Outro
Creating an intro for your show is essentially a requirement. In the first 15 seconds, you'll want to make a good impression. Youtubers making videos just for fun don't have to have an intro or outro, but a professional gaming channel almost always will. It emphasizes to your audience that your content isn't just a one-off entertaining video, but a brand. There are many ways to do it too.
An animated intro can set the tone of your content, build hype for an episode, and show newcomers that you have put some real work into your videos. A good outro can keep your viewers watching to the very end, and can get your audience from one video to another through a call to action. A catchy jingle that can get stuck in your head will make your content more memorable.
In short, both how you start a gaming video, as well as how you finish, will determine the lasting impression you leave your viewers.
Make Custom Thumbnails And Titles
This is absolutely worth the time. A thumbnail is the first thing a potential viewer will see of your video, and how interesting it looks will determine whether or not they click it. If you don't create a custom thumbnail for your video's then it will select a few random images from the video itself as options. But these options are unlikely to stick out from the countless other game videos out there.
When creating a thumbnail, it's important to remember that half of the people using youtube do so through a mobile device. Any text you use should be large, images eye-catching, and descriptive of the best part of the video. Also, make sure you keep the thumbnails stylistically similar enough that your followers can tell each video belongs to the same channel.
As far as titles are concerned, it's best to hint at the content of the video without spoiling it. A title such as "I dropped and broke my new system" and an image of the broken system tells the whole story, so why watch the video? But a title like "I made a TERRIBLE mistake!" only hints at the story, and the capitalized word is more eye-catching.
All of this is a skill that takes some practice to master. But making great custom thumbnails and titles will help you make sure as many people click on your videos as possible.
Tagging Your Videos
Before someone can click on your video, they need to find it. Tags are keywords attached to your videos that allow viewers to search for them. However, with so many videos, using so many tags, it can be a struggle to find what tags would give you the best results.
The best advice is to make the first tag the most important and relevant to your video and then add the rest based on the order of importance. For example, if you're streaming "Castlevania: Curse of Darkness" on Twitch, "Castlevania" would work as your first tag, followed by "Curse of Darkness". Tags should never be over four words long.
Finally, it's best to have around thirty tags per video. Youtube and Twitch are very competitive, but if you follow these instructions, your tags should help bring potential subscribers right to your videos.
Video Length
How long should you make your gaming videos? The answer largely depends on the type of video you are making. You have about a minute to make sure someone who clicks on your video will actually watch it. So generally, a shorter video should aim for around two minutes in length.
However, Youtube and Twitch tend to reward content creators based on how long audiences watch their content. For this reason, a video between 10-15 minutes is the goal you want to aim for. Try not to actively waste time to reach this threshold, as your audience will likely notice, begin to get bored, and leave early.
With that said, 10-15 minutes is a target, not a requirement. Lastly, keep in mind that the longer the video, the more time it will take to produce and edit it. Plan your filming days, and the release schedule of your videos accordingly.
Promoting Your Channel
As with many jobs, social media has completely changed how content creators have to work. To promote your videos, it's a good idea to have a regular social media presence.
Having an active Facebook and Twitter account allows you to regularly engage with your fans, keep them up to date about your latest videos, attract newcomers, and report if something happens that will cause a delay in your usual scheduling.
Don't forget to also promote your social media in your videos as well. That way you'll get more interaction on both social media and your actual gaming videos.
Most importantly, you should make a habit of doing a call to action at the end of your videos. In a call to action, you ask your audience to subscribe to your channel, to like and comment, or to engage with your content in some way. Why do this? Because an audience is much more likely to engage with a video after a content creator they trust asks them to. People are more likely to take action for the creators they like if sincerely asked.
Are You Ready to Make Your First Gaming Video?
With these tools and tricks on your side, you are well on your way to creating a successful gaming channel. However, all of this is just the beginning. Whether your gaming channel succeeds or not will depend on your charisma, passion, and dedication.
Making videos about your favorite video games can be a dream job. In a way, it can be like sharing a part of your childhood with the world. It's a goal worth reaching for, and if you follow this guide, you'll be well on your way to making it a reality.