The Growatt Infinity 1500 is a powerful, portable, and capable power station that's ready for anything you might throw at it. With a 2000W output, AC quick charge, and up to 800W of solar input this battery is ready for your home or next off-grid adventure.
Specifications
Brand: Growatt
Weight: 36.4lbs
Capacity: 1512Wh
Maximum Discharge: 2000W
Solar Controller: MPPT
Output: 4 x AC 2000W max, 13.6V car port, 2 x USB-C PD 60W, 2 x USB Fast Cahrge 3.0 18W, 2 x USB 15W
Input: XT60 solar port, AC
Measurements: 16.5 x 9.1 x 11.3 inches
Lifecycles: Around 500 to 80%
Charge Temperature: -4° to 140°F
Discharge Temperature: -4° to 140°F
Battery Type: NMC
Solar Charging: 800W
Voltage: 100V~120V
Cost per Wh: $0.85
AC outputs: 4 sockets, 2000W max / 4000W surge
USB outputs: 2x USB-A 12W, 2x USB-A, 2x USB-C 60W,
Pros
Fast charging
800W solar input
Sleek and practical design
Powerful outputs
App connectivity is useful
Cons
Heavy
Lithium NMC battery cells won't last as long as LFP
Buy This Product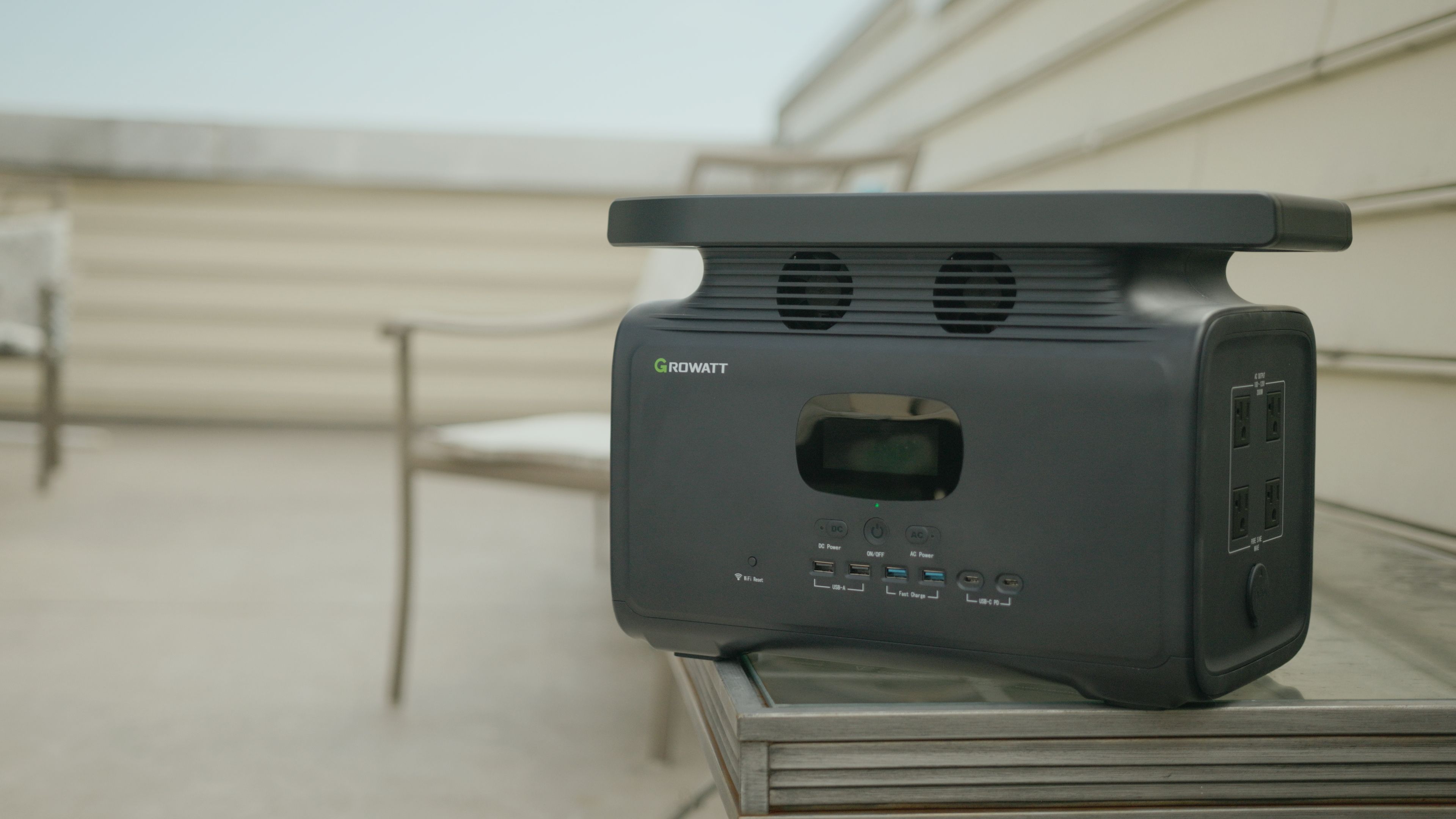 With battery technology advancing, portable power stations are making a big mark. These powerhouses replace generators, supply power in disasters, and enable a nomadic lifestyle in a way we've never seen before. So where does the Growatt Infinity 1500 land in this market? Will it work for your lifestyle? What does it offer that other portable battery stations don't? Well, quite a few things.
The Growatt Infinity 1500 packs a lot of portability and power all into the same unit. Given its name, the battery holds a hefty 1512Wh capacity. Not only that, but it also offers expansion, with the ability to connect up to three units in parallel to increase total capacity. It can output 2000W continuously with up to a 4000W surge, which is enough for most household appliances and even some large tools. These capabilities unlock countless opportunities for power, especially in a package this simple and portable.
Growatt Infinity 1500 Design
The design is one of my favorite aspects about the Infinity 1500: it's clean, matte, minimal, and functional. It features two side handles that make it easy to carry and has a flat-top design which makes it great for stacking and storage. It comes in at 16.5 x 9.1 x 11.3 inches, and 36.4lbs. It's portable enough to carry with one hand, but obviously easier to carry with both handles. The overall build quality is incredibly solid, and I haven't had any handling problems taking this around with me.
It has a built-in MPPT controller and AC converter, meaning there's no need to carry around any bulky power bricks or extra accessories when powering the unit. The rubber grips on the bottom, left, right, and top of the device make it stable on whatever surface you decide to set it on, with no worry of it getting knocked off a counter or tipped over.
Located around the top of the battery, just underneath the side handles, are a series of fans that keep the Growatt Infinity cool when charging and discharging. I did notice the fan noise could get a little loud, but I'd much rather have a noisy fan than a battery that overheats.
At the top of the battery, there's a nice flat platform that can be used to rest any electronics that you're charging, but also features a wireless charging pad for smartphones and other compatible devices.
Internally, the 1512Wh battery is made up of Nickel Manganese Cobalt (NMC) Lithium Ion cells, providing around 500 cycles before they reach 80% of the original capacity (800 cycles to 60%). It features under/overvoltage protection, overcurrent protection, short circuit protection, overcharging voltage protection, and over-temperature protection, making battery management a breeze.
Upon unboxing, you're greeted with the Growatt Infinity 1500, the user manual, and a box of various cables and adapters. This includes an AC power cable, a solar charging cable (MC4 to XT60), and a car port to XT60 cable.
The battery arrived with a little over 50% charge, but it's recommended you charge the battery fully before use with the included AC power cable.
User Interface
At the front of the battery, you'll find an LED display, along with a series of buttons. Front and center is the battery percentage indicator, along with a circle graphic indicating whether it's charging or discharging. To the left and right of the battery percentage are the input and output wattage indicators, relaying the real-time power draw coming from your devices. At the top of the display, there are various icons, signaling which inputs/outputs are currently in use.
At the bottom of the display, you'll find the time remaining estimate to charge or discharge, along with an icon for when the fan is in use.
Below the display is the power button, DC/AC output buttons, and a Wi-Fi reset button.
Growatt Infinity 1500 Outputs
Underneath the buttons and display are the DC output options. These include two standard 2.4A USB-A ports (12W), two USB-A Quick Charge 3.0 ports (18W), and two USB-C power delivery ports (60W).
Over on the right side of the body you'll find four pure sine wave AC outputs, each offering 100V~120V at 2000W maximum combined. That's enough to power a large space heater, a coffee maker, microwave, or a fridge freezer (though not all at once). One thing to note is that each of these AC outputs offers three-pronged outlets, giving you proper grounding and not stifling what you can and can't plug into the device.
Below the AC outputs is a 13.6V, 10A (regulated) car cigarette lighter output. While I have been impressed with the build quality of the unit, I did find the silicone outlet cap to be flimsy with a weaker connection than I would have hoped.
Charging the Growatt Infinity 1500
On the opposite side of the Infinity are the input options: 1500W AC, along with a single XT60 port that's used for both solar and charging from your vehicle. One thing I would have liked to see is the ability to use both the car charging and solar capabilities at the same time, for situations like car/van camping where you could have panels on the roof while also charging from your vehicle when there's little sun. Unfortunately, you can only use one at a time, but it's nice that Growatt includes both these adapters for the sake of versatility.
The AC input is the fastest way to charge the Infinity 1500, at 1500W, giving you a 0-80% charge in an hour, and a 100% charge in as little as two hours. You could also use the 12V car charger to charge in 12.5 hours or use the maximum 800 watts of solar input to charge fully in only 2.5 hours in direct sunlight. You can use any panels with the Growatt Infinity 1500 as long as the open-circuit voltage is from 12 to 100V, at a maximum of 12A. So unlike some power stations that are limited to using low-power portable panels only, the Growatt Infinity 1500 can use larger static panels too, giving you a wider choice of solar input.
Once the battery is plugged in, the LED Display will light up letting you know how long the battery will be until full.
The myGro App
The Infinity 1500 also comes equipped with a Wi-Fi and Bluetooth connectivity, which is used with myGro app. The connection process is very simple, and if you have multiple devices you're able to group them together into custom categories. The myGro app also has a support tab that features the user manual and an FAQ section with commonly asked questions. This makes any problem-solving on the go a breeze especially if you don't have the manual on you.
When clicking on an active device in the app you get all the same information that you'd get on the front display, but with even more detail and control. Some additional info only available in the app includes device temperature and the exact wattage input/output from each individual port. You also have the ability to enable and disable the DC/AC and power remotely.
Where the app really shines are the customization options. Here you can rename your device, change your temperature units, and adjust your battery protection, charging speeds, output power, beep indications, and power-saving settings.
It feels like a well-developed app and adds a great amount of functionality outside of just relaying info that the user already knows, and I'd highly recommend it for anyone to get the full experience out of their battery.
Growatt 200W Solar Panels
When getting a portable powerhouse such as the Infinity, the goal will likely be to use it in situations where AC power just isn't available. Whether that be for off-grid or emergency purposes, solar has become the most efficient, clean, and convenient option for users to top off their batteries in the great outdoors. Luckily, Growatt offers a 200W foldable travel solar panel, and you can up to four of these with the Infinity.
The panels come in a portable and protective travel case. When folded inside the case the package weighs 15.65lbs and comes in at 23.74 x 21.22 x 1.50 inches. When unfolded the panels come out to 89.37 x 21.22 x 0.98 inches. They're solid, durable, and IP67 water-resistant. The setup for these panels is simple with snap fasteners, and pop-out kickstands to angle the panels for optimal sunlight.
Just attach the MC4 connectors to the XT60 adapter, plug it right into the Infinity 1500, and you're good to go!
One of the biggest highlights of the Infinity 1500 is the ability to charge with up to 800 Watts of solar at once, super impressive! That means you can take up to four of these 200W panels, daisy-chain them together in series (with one panel feeding into another), and charge up the Infinity in 2.5 hours in direct sunlight!
Infinity 1500 Real-World Use
So far, the Infinity 1500 has been a tank and has powered every home device I've been able to throw at it, without a single hiccup. It was able to boil water from my Keurig quickly and easily, power my massive old television for hours, power my lighting, fans, PC, and charge my phones, laptop, earbuds, and any other device I threw at it.
The 1512Wh capacity and 2000W output capability can power hefty appliances for a sustained amount of time, or recharge all your usual battery-powered devices over and over and over again. The design, user interface, and app all make operation a breeze and make the entire experience frictionless.
I had no problem moving the battery from room to room, floor to floor, or out and about in my car. Plus, when I wasn't getting any sunlight for the past week, the lightning-fast AC charging worked a charm.
The only performance gripe I found was when using the USB-C port to charge my phone. My phone supports up to 65W fast charging, and the port on the Infinity offers a 60W USB-C output, yet when plugged in I was only getting on average a 7W charge; so it seems not every device is compatible with these higher speeds. You can solve that by plugging the USB-C power brick into the AC port, but it won't be as efficient due to conversion losses.
Is The Growatt Infinity 1500 Good Value?
How does the Growatt Infinity 1500 compare to similar portable power stations, and does it represent good value? Two popular competing options are the Jackery Explorer 1500, and the Anker Powerhouse 757. The Jackery option has about the same capacity and same battery technology, but it's more expensive, takes double the time to charge, has fewer output options, no wireless charging, and has half the solar input abilities that the Infinity has. It also lacks the flat top design that makes the Infinity so simple to store and stack.
The Anker option comes from a well-known company with top-of-the-line battery technology, but it comes in at a similar price with around 300 fewer watt-hours of capacity, and only up to 300W of solar input.
Judging by these comparisons, the Growatt option seems to give the best bang for your buck, while also offering some options that the competition just doesn't seem to have.
So, Is The Growatt Infinity 1500 Right for You?
With natural disasters getting more frequent and intense, it's wise to have a powerful battery even just sitting in storage, to keep in case of emergencies. Outside of that, the Infinity 1500 is great for getting work done. Whether that be powering your camera equipment on the go, running displays and lighting at a trade show, or powering tools and hardware on a job site. The most fun use case is for recreation. Whether it be powering some string lights and a TV around your backyard fire pit, or converting your van into an off-grid living space, the Infinity 1500 has you covered.
It's portable enough to pack into a car, and carry out to a campsite, but big enough to power your most demanding devices and keep your essentials charged for days at a time.
One thing to note is this unit is not weather-sealed, so you will have to be mindful about what adventures you're taking this on. Luckily, it has operating temperatures from about -4 to 140 °F which makes it incredibly capable in most environments you'll find it in. It's far too big to backpack up a mountain, but with this build quality and designed portability, this would make a great companion to move about a house, vehicle, or campsite.
I don't know anyone who couldn't benefit from a portable power station, but is the Infinity the best option for your needs? Well, I think if you're looking for value, then this is a great option for anybody. But specifically, if you need the potential to recharge more quickly from the sun for truly off-grid use, power for all the things with up 2000W of output, wireless charging, remote control from your smartphone, and options for expandable power—then this is perfect for you.